SUMMER AND WINTER CHAMOIS IS 100% MOUNTAIN
Chamois is the highest municipality in the Valle d'Aosta, is located at 1815 meters above sea level, in the Valtournenche a few steps from the majestic Matterhorn, where it is still possible to be lulled by the beauty of the landscapes and the rhythms of nature. A true oasis of peace and relaxation, where cars have been banned and can only be reached by cable car or on foot. Surrounded by the highest mountains in Europe, characterized by vast expanses of woods and meadows, rich in water and lakes. Chamois has managed to maintain its traditions over time, which we find in rural architecture with the presence of rascard, typical wooden constructions, in the Franco-Provençal language (patois), in the friendliness and simplicity of its inhabitants. A place to live and discover in every season in which you not only find yourself but also: dedicate yourself to sport, taste the typical Valdostan cuisine and enjoy yourself while enjoying the various events offered during the year.
Chamois was inhabited starting from the first centuries of the Low Middle Ages when the progressive demographic expansion that followed the year 1000 caused the clearing and the population of large areas, previously uninhabited or exploited only seasonally. As we learn from the testaments of Ebalo Magno of Challant dating back to 1323 and his nephew Ibleto (1405), in the 14th century this town became one of the fiefdoms of the lords of Challant-Montjovet, unlike the other communities in the area that belonged to the lords instead of Challant-Cly, including the current municipality of Antey-Saint-André from which Chamois depended from an ecclesiastical point of view. The son of Ibleto, François, first count of Challant, in 1486 granted to the subjects of the lordship of Châtillon a charter of the franchises in which were also attached Pontey and Chamois itself. Vittoria Solaro della Moretta, wife of François de Challant baron of Chatillon, was remembered in 1691 and in 1691, when the Valle d'Aosta was invaded by the troops of the king of France Louis XIV, he abandoned the castle of Châtillon and with his sons she took refuge in Chamois, where she was welcomed with joy by her subjects who would have hosted her for a long time if the Marquis of La Hoguette, commander of the French army, had not found her and brought her back to Châtillon, where he held her nobly hostage.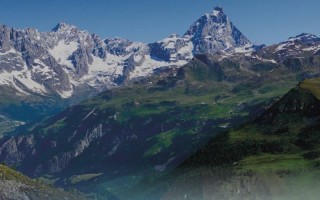 UNA STRAORDINARIA VISTA SUL CERVINO
Il Cervino come non l'avete mai visto. Da Le Point Sublime, a quota …
CURIOSA ORA